Dear community and friends, The COVID-19 crisis clearly demonstrates the notion of fragility to us. In moments like this, we must act to build resilience. The only way we can overcome a period of uncertainty is to prepare ourselves for the unknown. This is what resilience planning does. It helps to strengthen our lives, organizations, cities, and society to manage, adapt, and overcome unexpected challenges.
This moment reinforces just how fragile we are in the face of nature, in the face of a health crisis, and in the way we deal with the economy. It confronts leaders to look at the way we build our society and economy, and how much we can learn, once we treat them as complex, adaptive systems. 
For the next few months, we'll be focussing on making available online courses, webinars and learning materials to do just that, and to share the power of systemic design. Of course, there's already the free Symbiosis in Development (SiD) book we published in September, but with accessible online learning tools we hope to strengthen your understanding and tools for a better future. To start off, a free webinar on systemic design this Monday.
If you want to know more about how you can use this period of insecurity effectively, to manage transition and resilience in your organisation, be sure to reach out?
Stuck at home and in for a good discussion about systemic design?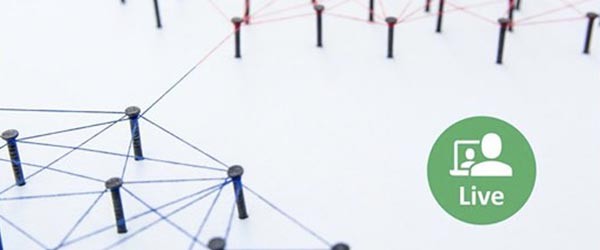 Join Except's Tom Bosschaert and two other systemic design experts in a live online webinar on Monday March 23, 18:00 GMT / 19:00 CET for a one hour in-depth discussion. This online conference is gracefully organized by the Systems Innovation organization in London.
Why does systemic design matter?
We live in a world of systems. Cities, transport, supply chains, food production, climate change, as well as virus transmission, can all be understood as systems. As we design more and more into these systems, they become increasingly complex. As the urgency to live more sustainably increases, systemic design is emerging as a promising approach to this need for future direction.
Systemic design is an approach that takes into account in a more holistic way and completes the diversity of actors and elements that form the design of a complex system; such as city, airport, health system, information system or any number of different services.
The practice of system design has evolved significantly in recent decades. In this one-hour discussion, we gathered top professionals in this field, hoping to clarify what we mean with the term "Systemic Design" and how we can address the design of complex systems to achieve sustainable results.
Part of the conversation will touch upon the Symbiosis in Development (SiD) framework, that paves the way for broader adoption of the practice of systemic design. More on SiD and to download books and documentation for free, go to www.thinksid.org.
Preparation for the webinar
We suggest watching a documentary that helps your understanding of where systemic design comes from. It's part 2 of the series 'All watched over by machines of loving grace'. It is free to watch online here. Watch all of it. It's an amazing story.
Guest Speakers
Tom Bosschaert
Virginie Gailing
 Kristel Van Ael
The format is a 1 hour video discussion broadcast live on Monday, March 23, at 18:00 GMT/ 19:00 CET on Youtube: https://lnkd.in/erhVdjQ
Systemic perspectives on Covid

Find all Tomorrow Times editions and newsletters here.