Except Integrated Sustainability launches a new approach to sustainable urban development: Catalytic Buildings. A Catalytic Building helps to 'sustainify' an existing urban fabric. Going beyond energy-neutral buildings, a Catalytic Building enhances the autonomy, resilience and/or the equity of the system within which it exists – be it a single neighborhood or an entire city. Read more about it here and download the Catalytic Buildings Whitepaper below.
Over the past decade Dutch sustainable development, innovation and design consultancy Except has developed concepts for catalytic buildings. During this time, the urgency to improve urban environments in terms of energy, water, waste, food, ecosystem and socio- economic services has become increasingly apparent. Yet, efforts to tackle these issues is bottlenecked around new energy-neutral and circular buildings.
"The majority of the infrastructure that is going to house people this century has already been constructed. So the challenge is not to build new sustainable buildings, but to 'sus- tainify' the buildings that already exist. For some that's doable, but most buildings, espe- cially residential houses, won't experience such major renovations within the next 15 years. This leaves us with a major design flaw in an integral timeframe. The solution is building infrastructure which act as a catalyst," says Except Director, Tom Bosschaert.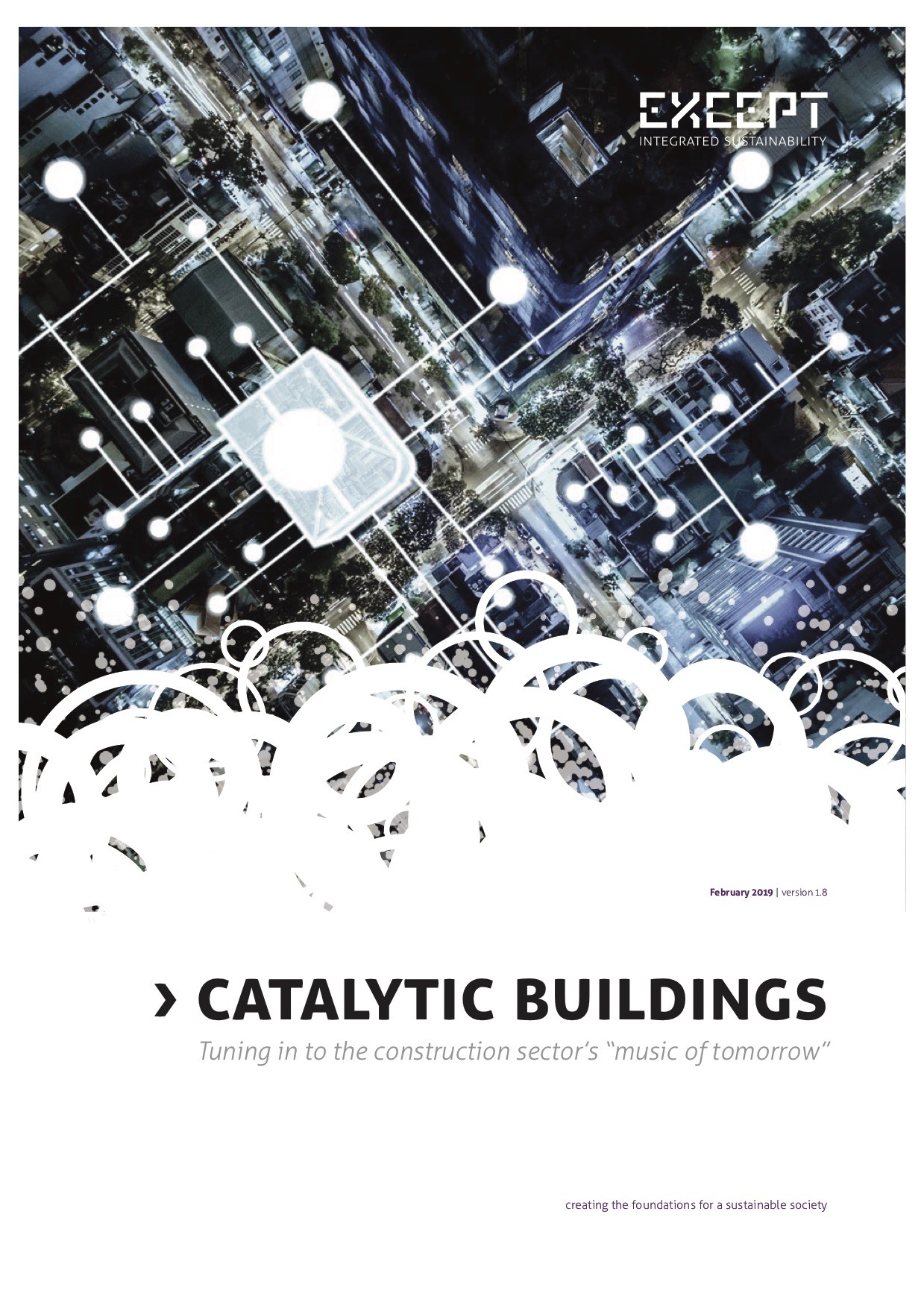 To truly confront the needs of 21st century cities, development must steer towards build- ings that actively contribute to their surrounding locales. Tom continues: "If a building is entirely energy efficient whilst the entire city crumbles, will its inhabitants thrive? The answer is an obvious 'no'. So why are we solely focusing on internal performance when it is only part of the issue?"
"A catalytic building is one building which enhances the resilience of the existing urban environment that it inhabits," he says. "They're the Formula 1 of high performing buildings. They go beyond the limits of LEED Platinum or BREEAM Outstanding and become a vital organ in the fabric of their surroundings."
"Catalytic Buildings give direction to the aim of performance of smart cities. If you start thinking about the system as a whole, and the building as a part of that system, you begin understanding the potentials for a neighbourhood approach to urban development. You don't need to rewire the entire city for it to make a large impact."
"The building is a tool in itself. A catalytic building leverages what a neighbourhood has to offer and actively improves it. They do this in a physical sense, but also in a social and economic sense," he concludes. "This is about bridging gaps between urban planning and architecture, as well as going beyond the physical core of the building. Catalytic buildings open up new, innovative business models for investors and developers which are just waiting to be tapped".
Except is an innovation, design and sustainable development consultancy based in Utrecht, the Netherlands. For over 20 years, Except has used a unique blend of systems thinking and a home-grown integrated sustainability methodology in over 600 projects world- wide. Our multi-disciplinary team of architects, urban planners, industrial ecologists, and strategists work at the forefront of sustainability consulting. We harness opportunities by embracing the complexity of integrated sustainability for our clients.