Held November 28-30th 2022, Eurocham's inaugural Green Economy Forum and Exhibition (GEFE) was the first time such a broad spectrum of sustainably-driven companies, academics, and leaders had gathered on Vietnamese soil. By all accounts from everyone who attended - and from own experience - it was nothing short of a roaring success.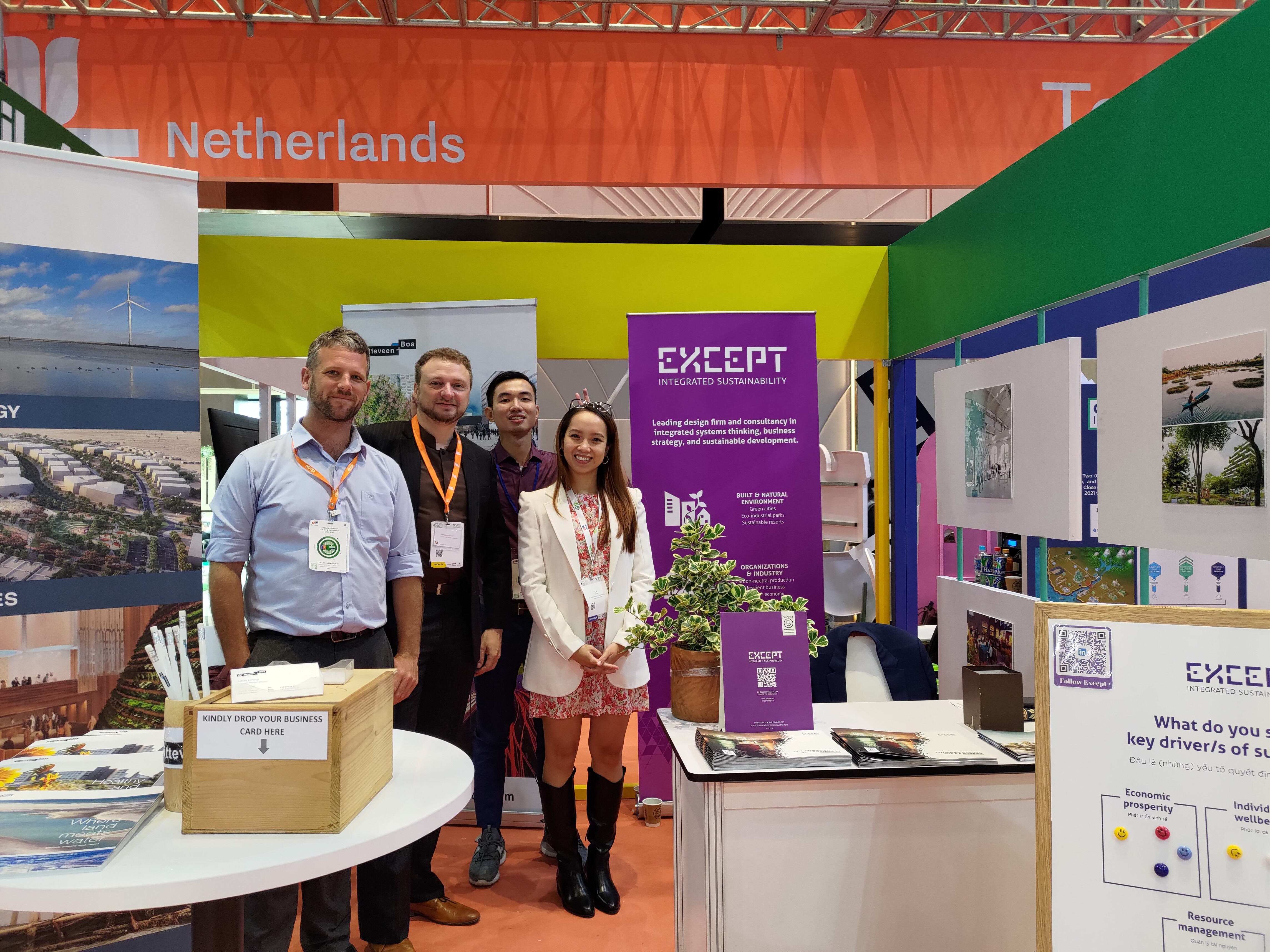 With over 150 exhibitors and 30-plus conferences and panel discussions on the green economy, the days revealed those currently working or looking to enhance sustainable development and collaboration between Europe and Vietnam and bolster efforts to support the "National Green Growth Strategy for the 2021-2030 period, vision towards 2050." This article outlines a few of our activities and insights from the event.
Click here to access a digital flipbook featuring all booth holders and sponsors.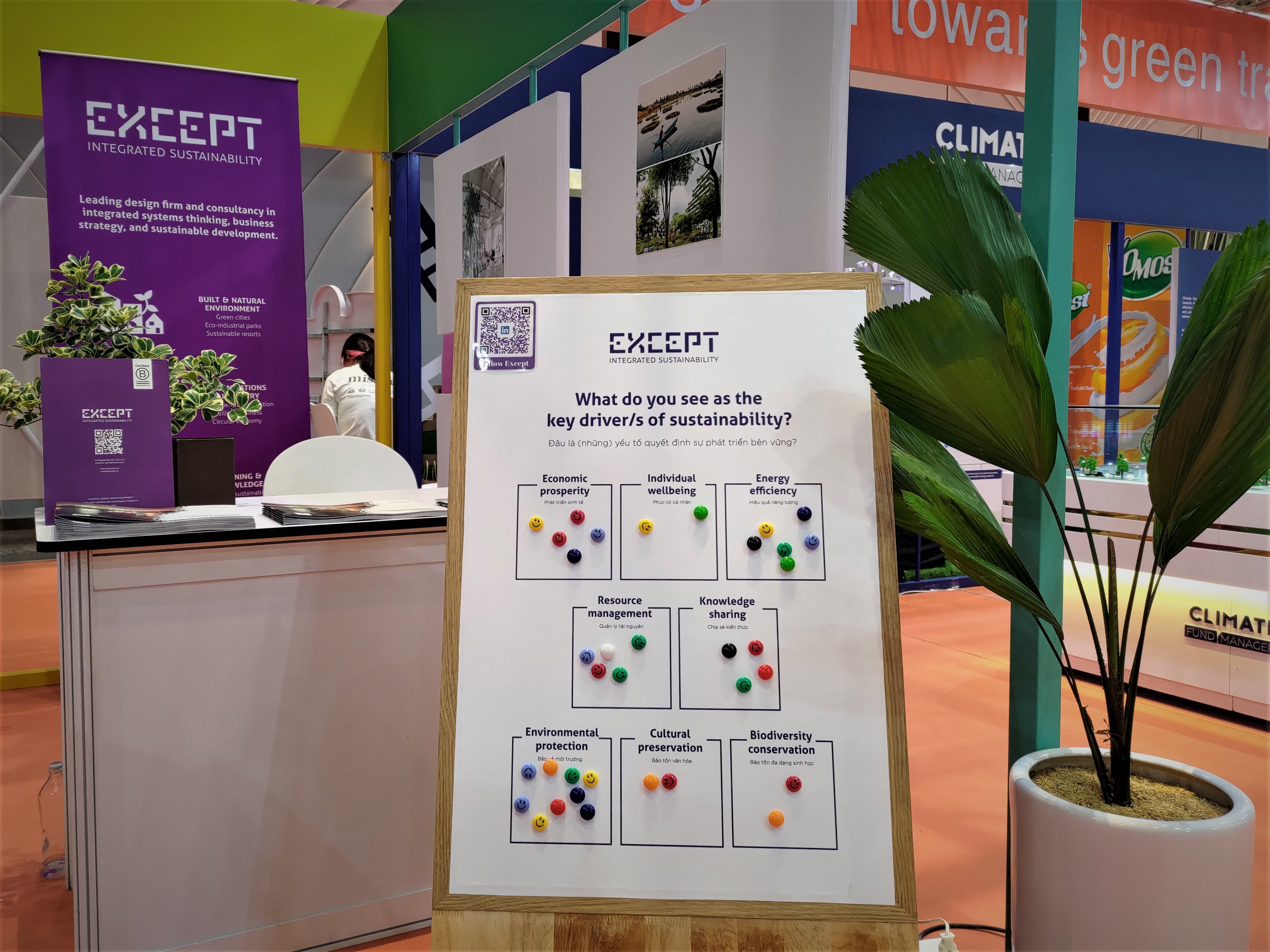 Reflection from our booth
Located at the heart of the exhibition hall at the Dutch Pavillion, Except's stand received a steady flow of guests across the three-day event. Those to whom we spoke were keen to learn more about our systemic approach to design and strategizing and how our services can help their organization and Vietnam more broadly.
At the front of our booth was an interactive board, promoting passers-by to consider what believe to be the critical driver/s of sustainability. In other words, which areas have the most leverage?
The categories were:
Economic prosperity
Individual wellbeing
Energy efficiency
Resource management
Knowledge sharing
Environmental protection
Cultural preservation
Biodiversity conservation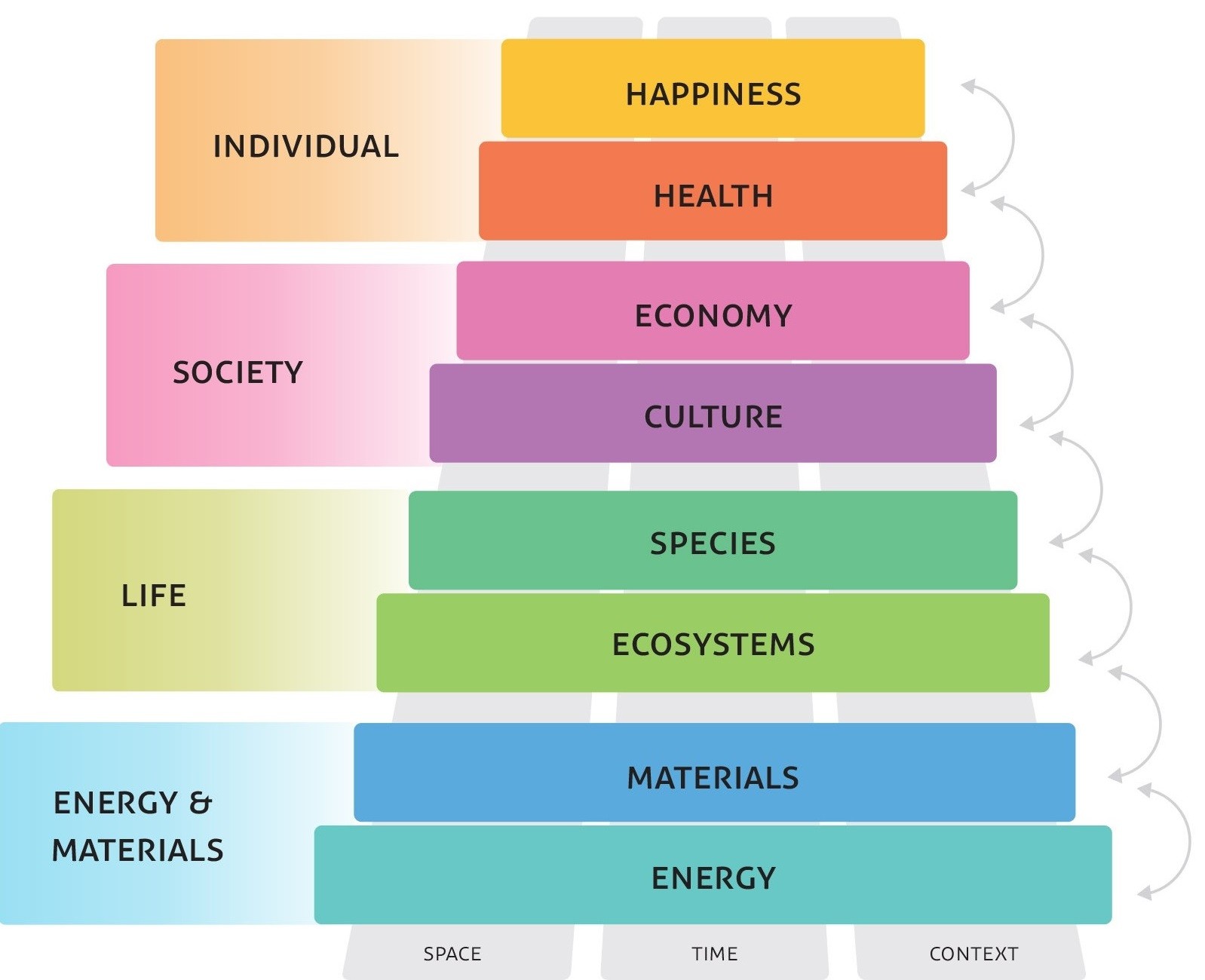 The categories on our board were derived from the ELSI stack, a systems categorization tool for the Symbiosis in Development (SiD) systems thinking framework. It provides an easy way to get a broad overview of all the critical areas and helps to develop indicator sets for systems analysis.
There were no right or wrong answers, and answers and justifications varied greatly depending on the industry and personal interests of those we spoke to. It stimulated some healthy discussion, which was our aim.
Though not a precise and scientific data-gathering method, environmental protection, economic prosperity, and resource management consistently topped the daily tally count.
We also noticed that cultural preservation, knowledge sharing, and individual well-being became somewhat more popular on the third day of the event, with a much higher presence of students.
Dutch stand as an example of placemaking
The Dutch pavilion was the place to be during GEFE, providing a spectacular example of placemaking.
In a nutshell, placemaking is designing a public area to foster and enhance community interactions to build shared values that transcend the physicality of the space. This includes a design that encourages sociability, accessibility, connections, imagery, and comfort. Subsequently, this aids in developing bonds between individuals or groups and subsequently creates community value and culture.
The pavilion's open layout and placement in the hall's center led it to become the event's unofficial "town square." It offered guests ample refreshments (coffee, beer, and wine), plenty of comfortable seats and tables, and wide open areas to wander and socialize.
It was where Prime Minister Pham Minh Chinh and the media visited and spent most of their time on the exhibition floor. It was where the event's unique sculpture was revealed, where people could watch what was happening in other parts of the building.
Participation in conferences and events
Tom Bosschaert, Except's founder and director, participated in GEFE's passive architecture strategies conference on the second day. He spoke about the need for green buildings and how integrated, systems-driven frameworks are vital for sustainable design. A roundtable followed with other speakers to discuss architecture and design, materials, and related strengths and challenges in the Vietnamese market. This section reinforced a growing awareness and desire for more sustainable suppliers and value chains and how planning and design can help match the ever-increasing local demands and requirements.
Chi Nguyen, Except's Vietnam director, attended the judging panel on Wednesday morning's presentation of the finalists in Schoolab and LEGO Vietnam's "sustainable innovation lab." The morning gave some young entrepreneurially-minded university students a chance to present their concepts for specific solutions and actions to enhance the impacts of particular products and services.
Held on GEFE's dedicated 'student day,' and proved there was a healthy demand and need for universities to start mainstreaming programs dedicated to supporting younger Vietnamese who want to learn more and develop alternative approaches and business models.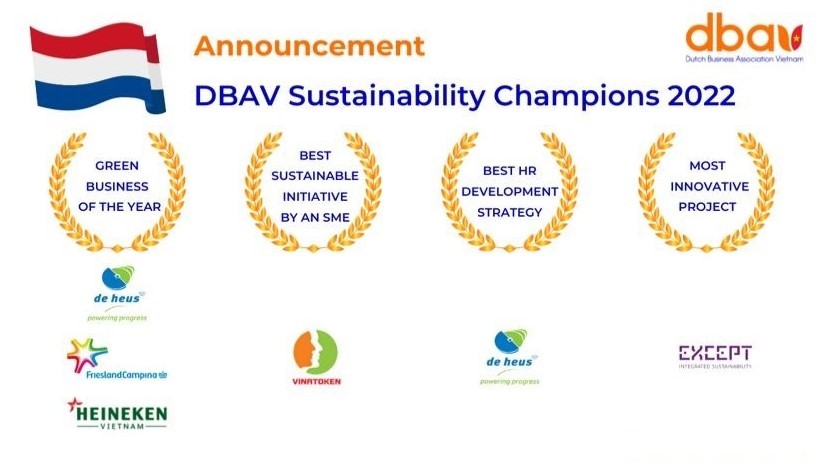 DBAV award prior to the event
Prior to the event, the Dutch Business Association (DBAV) held the DBAV Sustainability Champions 2022 award. All of us at Except were humbled to learn that Orchid City, our self-sufficient and sustainable city blueprint, had been chosen as the winner of the "Most Innovative Project." This category recognizes projects demonstrating innovation, ESG credentials, and technology-driven approaches to ensure sustainability.
After winning the Dutch category, Orchid City was automatically in the final round of Eurocham's sustainability business award but lost out to IMT solutions' initiative R-One Recyclable Waste Sorting Machine and its AI-driven approach to waste classification. A big congratulations to them.
Post-event roundup
Events such as GEFE are vital for building bridges between individuals and cultures and establishing genuine connections between the nations and continents they call home. The future looks bright, and the groundswell of European and local organizations at GEFE wanting to work for the betterment of Vietnam's - and the entire region's future confirmed that the foundations, the most critical factor when starting any endeavor, are becoming stronger by the day.
Please see the links below to learn more about our current projects in Vietnam.