The EU is being sued for temporarily banning pesticides linked a decline in bee populations, a CEO is sharing his $3.25 million bonus with his employees and the world's first "invisible" tower. Read all about it in this Wormfood.
Global News: Suing the EU for saving bees
Two large agricultural companies started legal action against the European Union.

This because the EU decided to temporaly

ban the use of three insecticides

linked to a decline in bee populations.

What are the most efficient health care systems in the world? Some infographics with an overview.
The Marchall islands in the Pacific ocean are at the risk of becoming unhabitable because of rising sea levels and increasingly severe floods, droughts and storm surgesand storm surges.'
Energy & Environment: "Zero Deforestation Law" extended

The Paraguayan government has extended their "Zero Deforestation Law"

for a further

five years

. The Land Conversion Moratorium for the Atlantic Forest of Paraguay, also known as the "Zero Deforestation Law" was enacted in 2004 and dramatically slowed the country's deforestation rate by prohibiting the transformation and conversion of forested areas in Paraguay's eastern region.

The situation at the Fukushima Daiichi nuclear power plant is not under control.

Radiation levels 18 times higher

than previously reported have been found near a water storage tank at the Fukushima Daiichi nuclear power plant, causing fresh concerns about the safety of the wrecked facility. Japan will spend up to

$500 million of public funds

to tackle radioactive water leaks at Fukushima as the government vowed to take the lead in the clean-up.

There is a possibility to reduce the amount of greenhouse gas emissions from agriculture through the use of a modified tropical grass

.

Brachiaria grasses

have been found to inhibit the release of nitrous oxide, which has a more powerful warming effect than carbon dioxide or methane.
Business & Economy: CEO shares his $3.25 million bonus

The chief executive of Lenovo Group Ltd. is sharing his annual bonus with his staff. Yang Yuanqing, will share $3.25 million from his bonus with some 10,000 staff in China and 19 other countries.
The world's corruption index is out. The Index is based on expert assessments and data from 13 surveys from independent institutions, covering issues such as access to information, bribery of public officials, kickbacks in public procurement, and the enforcement of anti-corruption laws.
Science, Technology, & Design: China's delivery drones

Urban Environment: The world´s first "invisible" tower

Unexpected and Intriguing: Femen group founded by a man

The Femen organisation, who's protesters use their breasts as a canvas for their slogans,

was founded and is controlled by a

man

.

Do you like Monopoly? You will love Commonopoly. "Unlike Monopoly, the goal of Commonopoly is not the exhaustion, through monopolization, of a virtual stock of goods, but rather the expansion and preservation of a sustainable system of recycling, production and distribution."
In an incredibly rare twist of fate, a married couple in the UK have had their marriage annulled after discovering that they were in fact twins separated at birth.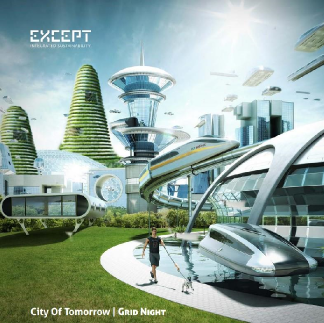 We're happy to invite you to the Except Grid Night, a mind nurturing evening about the City of Tomorrow
. We will tickle, challenge and inspire you with future urban scenarios concerning food, living and working. The goal is to liberate your inspiration and op
en doors for more sustainable projects.
When? Thursday, 17th of October
Time? 17:00 - 21:00
Where? Beurs van Berlage, Oudebrugsteeg 9.
No entrance fee after registration.
This bi-weekly digest is assembled from items sent to us by Except members. Have questions, comments, or news items to suggest? E-mail merel.segers@except.nl. Read past Wormfood global news reports here.