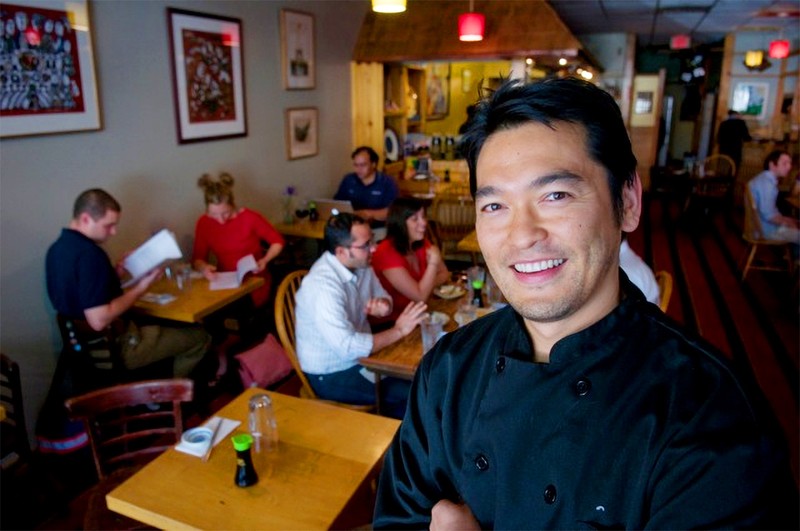 Chef Bun Lai in his restaurant Miya's, in New Haven, Connecticut, USA
Miya's sushi is run by the inspired and talented Chef Bun Lai. Bun asked us, how can we become the world's most sustainable sushi restaurant? As a small, local, family-owned restaurant, that seems like an enormous ambition, but this project shows this is possible.
The restaurant's success speaks for itself...
Finding the impact
In the process of investigating the impact of Miya's Sushi, we analyzed the impact of its building, operations, and menu choices - it's the types of fish on any sushi restaurant's menu that represent the most significant impact.
During the early stages of strategy development, we asked:
What if we would turn this negative impact into a positive one?
If we remove fish from the menu, what kind of sushi restaurant would we be left with?
Isn't there a way to do more good in addition to reducing the bad?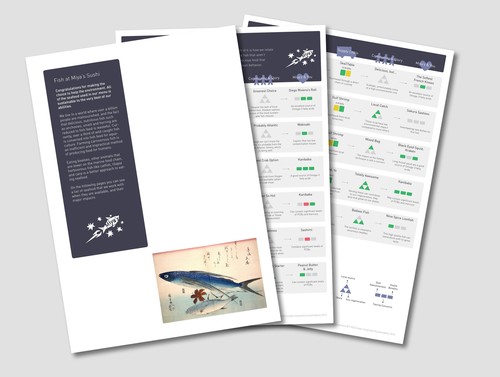 The Miya's sushi sustainable fish menu
Analyzing the system
First, we analyzed the impact of different fish types and suggested alternate menus on lower impact. Eating bivalves, other animals lower on the marine food chain, and herbivorous fish like catfish, tilapia, and carp is a better alternative to just eating any seafood.
Except developed an infographic-based menu to inform visitors and the community and participate in the conversation, the menu shows several essential aspects of the entire fish life cycle that are hard to discover otherwise. It helps sharpen the fish selection of Miya's, shows complete transparency to the customer, and is a fun map to explore (download Miya's sushi at the bottom of the page)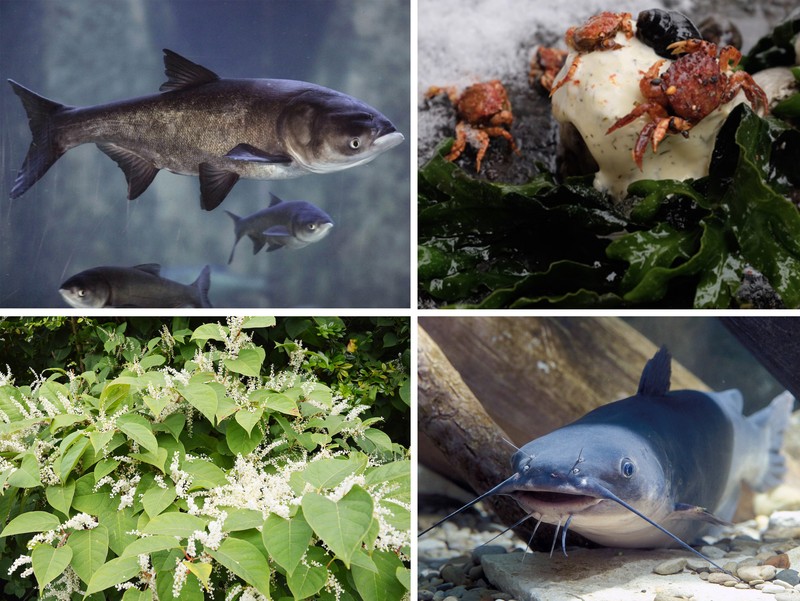 Invasive Asian Carp, Chinese River Crabs, Japanese Knotweed, and Blue Catfish are part of the invasive species menu.
Alternative and invasive species - a solution
Continuing with our system scan, we asked another significant question:
is there a type of seafood that eating is actually good for the environment, instead of simply less harmful?
We talked to nature conservation agencies, and the answer was yes - invasive species, i.e., those introduced to a particular ecosystem and often have destructive effects.
Based on lists of the conservation agencies about the locally present species, we investigated which ones could be edible, that we could also catch, and that would benefit the ecosystems to consume. In conversations with local fisheries, we found that some are accidentally caught and usually thrown overboard.
With this as a basis, Bun got to work. He experimented with the invasive species, producing a new menu selection called the 'Invasive Species Menu.' This menu, featuring unusual but delicious invasive species, such as Lionfish and Chinese River Crabs, became an essential aspect of the restaurant.

Two of Miya's invasive species-focused creations
Celebrating success
This unusual innovation did not go unnoticed. Chef Bun is the sole recipient of the 2016 White House Champion of Change Award for Sustainable Seafood. The New York Times playfully described him as "the mad scientist of the sustainable sushi movement."
Bun Lai featured in countless national and international media outlets attracted by his innovative and sustainable way to doing fishy business. He was featured in Time, National Geographic, Eating Well, Outside, Vice, The New Yorker, and across a broad range of publications and television networks.
With the tireless energy and support of Bun, sustainability at Miya's grew and benefited the business, the planet, and its community for many years. Sourcing 'invasive species' is still prevalent in the sustainable food world - first set by Miya's, a small but influential restaurant in New Haven, Connecticut.
Please do stop by to taste the delicious invasive species!